The equation showing the standard enthalpy change of formation for water is:


When you are writing one of these equations for enthalpy change of formation, you must end up with 1 mole of the compound. If that needs you to write fractions on the left-hand side of the equation, that is OK. (In fact, it is not just OK, it is essential, because otherwise you will end up with more than 1 mole of compound, or else the equation won't balance!)
The equation shows that 286 kJ of heat energy is given out when 1 mole of liquid water is formed from its elements under standard conditions.
Standard enthalpy changes of formation can be written for any compound, even if you can't make it directly from the elements. For example, the standard enthalpy change of formation for liquid benzene is +49 kJ mol-1. The equation is:


If carbon won't react with hydrogen to make benzene, what is the point of this, and how does anybody know what the enthalpy change is?
What the figure of +49 shows is the relative positions of benzene and its elements on an energy diagram: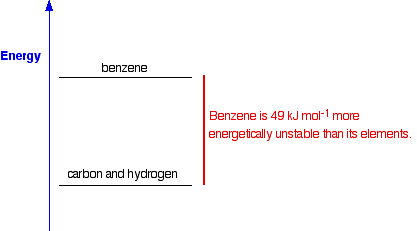 How do we know this if the reaction doesn't happen? It is actually very simple to calculate it from other values which we can measure - for example, from enthalpy changes of combustion (coming up next). We will come back to this again when we look at calculations on another page.
Knowing the enthalpy changes of formation of compounds enables you to calculate the enthalpy changes in a whole host of reactions and, again, we will explore that in a bit more detail on another page.
And one final comment about enthalpy changes of formation:
The standard enthalpy change of formation of an element in its standard state is zero. That's an important fact. The reason is obvious . . .
For example, if you "make" one mole of hydrogen gas starting from one mole of hydrogen gas you aren't changing it in any way, so you wouldn't expect any enthalpy change. That is equally true of any other element. The enthalpy change of formation of any element has to be zero because of the way enthalpy change of formation is defined.