What causes the M+1 peak?
What is an M+1 peak?
If you had a complete (rather than a simplified) mass spectrum, you will find a small line 1 m/z unit to the right of the main molecular ion peak. This small peak is called the M+1 peak.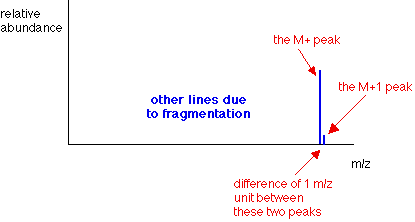 In questions at this level (UK A level or its equivalent), the M+1 peak is often left out to avoid confusion - particularly if you were being asked to find the relative formula mass of the compound from the molecular ion peak.
The carbon-13 isotope
The M+1 peak is caused by the presence of the 13C isotope in the molecule. 13C is a stable isotope of carbon - don't confuse it with the 14C isotope which is radioactive. Carbon-13 makes up 1.11% of all carbon atoms.
If you had a simple compound like methane, CH4, approximately 1 in every 100 of these molecules will contain carbon-13 rather than the more common carbon-12. That means that 1 in every 100 of the molecules will have a mass of 17 (13 + 4) rather than 16 (12 + 4).
The mass spectrum will therefore have a line corresponding to the molecular ion [13CH4]+ as well as [12CH4]+.
The line at m/z = 17 will be much smaller than the line at m/z = 16 because the carbon-13 isotope is much less common. Statistically you will have a ratio of approximately 1 of the heavier ions to every 99 of the lighter ones. That's why the M+1 peak is much smaller than the M+ peak.
Using the M+1 peak
What happens when there is more than 1 carbon atom in the compound?
Imagine a compound containing 2 carbon atoms. Either of them has an approximately 1 in 100 chance of being 13C.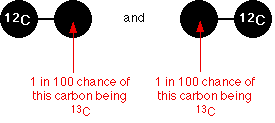 There's therefore a 2 in 100 chance of the molecule as a whole containing one 13C atom rather than a 12C atom - which leaves a 98 in 100 chance of both atoms being 12C.
That means that the ratio of the height of the M+1 peak to the M+ peak will be approximately 2 : 98. That's pretty close to having an M+1 peak approximately 2% of the height of the M+ peak.