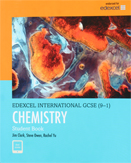 About the book
This book covers the Edexcel International GCSE Chemistry syllabus for first examination in June 2019.
It is based on my International GCSE Chemistry book for the previous syllabus with additional material, and quite a lot of rearrangement, by my co-authors Steve Owen and Rachel Yu to whom I am hugely grateful for the excellent job they have done. The rewrite coincided with a period when I was waiting for, having, and then recovering from major heart surgery, and it very quickly became obvious that it was impossible to do it myself.
As well as the changes needed for the new syllabus, the new book has been reorganised into syllabus order, with the relevant syllabus statements listed at the beginning of each chapter, and the entire book has been endorsed by Edexcel examiners.
Return to the menu page for this book
---
© Jim Clark 2017