The effect of increasing the pressure on the rate of reaction
Collisions involving two particles
The same argument applies whether the reaction involves collision between two different particles or two of the same particle.
In order for any reaction to happen, those particles must first collide. This is true whether both particles are in the gas state, or whether one is a gas and the other a solid. If the pressure is higher, the chances of collision are greater.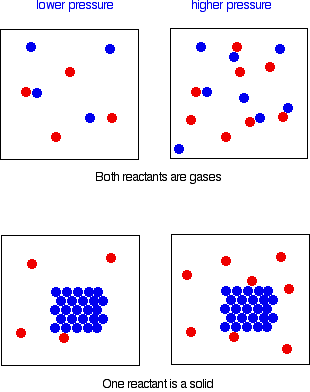 Reactions involving only one particle
If a reaction only involves a single particle splitting up in some way, then the number of collisions is irrelevant. What matters now is how many of the particles have enough energy to react at any one time.