Melting and boiling points
Silicon dioxide has a high melting point - varying depending on what the particular structure is (remember that the structure given is only one of three possible structures), but they are all around 1700°C. Very strong silicon-oxygen covalent bonds have to be broken throughout the structure before melting occurs. Silicon dioxide boils at 2230°C.
Because you are talking about a different form of bonding, it doesn't make sense to try to compare these values directly with the metallic oxides. What you can safely say is that because the metallic oxides and silicon dioxide have giant structures, the melting and boiling points are all high.
Electrical conductivity
Silicon dioxide doesn't have any mobile electrons or ions - so it doesn't conduct electricity either as a solid or a liquid.
The molecular oxides
Phosphorus, sulphur and chlorine all form oxides which consist of molecules. Some of these molecules are fairly simple - others are polymeric. We are just going to look at some of the simple ones.
Melting and boiling points of these oxides will be much lower than those of the metal oxides or silicon dioxide. The intermolecular forces holding one molecule to its neighbours will be van der Waals dispersion forces or dipole-dipole interactions. The strength of these will vary depending on the size of the molecules.
None of these oxides conducts electricity either as solids or as liquids. None of them contains ions or free electrons.
The phosphorus oxides
Phosphorus has two common oxides, phosphorus(III) oxide, P4O6, and phosphorus(V) oxide, P4O10.
Phosphorus(III) oxide
Phosphorus(III) oxide is a white solid, melting at 24°C and boiling at 173°C.
The structure of its molecule is best worked out starting from a P4 molecule which is a little tetrahedron.

Pull this apart so that you can see the bonds . . .

. . . and then replace the bonds by new bonds linking the phosphorus atoms via oxygen atoms. These will be in a V-shape (rather like in water), but you probably wouldn't be penalised if you drew them on a straight line between the phosphorus atoms in an exam.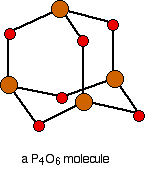 The phosphorus is using only three of its outer electrons (the 3 unpaired p electrons) to form bonds with the oxygens.
Phosphorus(V) oxide
Phosphorus(V) oxide is also a white solid, subliming (turning straight from solid to vapour) at 300°C. In this case, the phosphorus uses all five of its outer electrons in the bonding.
Solid phosphorus(V) oxide exists in several different forms - some of them polymeric. We are going to concentrate on a simple molecular form, and this is also present in the vapour.
This is most easily drawn starting from P4O6. The other four oxygens are attached to the four phosphorus atoms via double bonds.